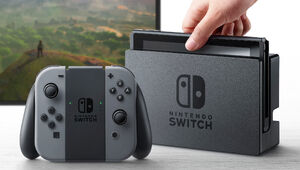 The Nintendo Switch (codename NX) is a hybrid video game console released by Nintendo on March 3, 2017.[1] The console was announced on October 20, 2016[2] through Nintendo's YouTube account. The console is the successor to the Wii U.
On January 12, 2017, a presentation took place in Japan and live streamed worldwide (with translated versions), which cleared up a lot of rumors, announced the launch date and games and technical specifications. Although this, the RRP for Europe was never announced.[3]
The Switch sold over 2.7 million units within the first month of its launch which made it the fastest-selling console of all time.
Description
The Nintendo Switch Console itself is similar to a tablet in appearance, which can be docked into the Nintendo Switch Dock, hence the name. When the console is docked, the game will be shown on the television screen. However, when it is removed from the dock, the game will show on the screen of the console. The Console can be played portably when undocked, essentially making the Nintendo Switch both a home console and a portable handheld.
Accessories
Joy-Con
When the Nintendo Switch console is removed from the dock, the Joy-Cons (specifically Joy-Con L and Joy-Con R) can be attatched to it. Additionally, games can still be played on the Switch, even if the Joy-Cons aren't attached. When turned sideways, the two Joy-Cons can be used on their own to play local multiplayer games.
The Joy-Pads can still be used, even if the Switch is docked. To play games on the televison, the Joy-Cons can simply be attached to the Joy-Con Grip instead of the Nintendo Switch Console, allowing you to play Switch games without needing to go into portable mode.
Nintendo Switch Pro Controller
When the Nintendo Switch Console is docked, it can still be played without using the Joy-Cons, thanks to this controller. This controller is more of a traditional one in terms of design, much like the Wii U Pro Controller before it. It is currently unknown how many games the Pro Controller is compatible with. The Pro Controller will be sold separately from the Switch console. 
Specs
Not much is known about the Nintendo Switch in terms of specs, but it is known that Nvidia's custom Tegra processor is used to power it[4].
Citations